[Workflow Management] Learn more about Premium Forms


Admin > Workflow Management > Common Doc Form Management
Admin > Workflow Management > Provision Doc Form Introduction

Learn more about the components of the Premium Form.

STEP 1

What is Premium Form?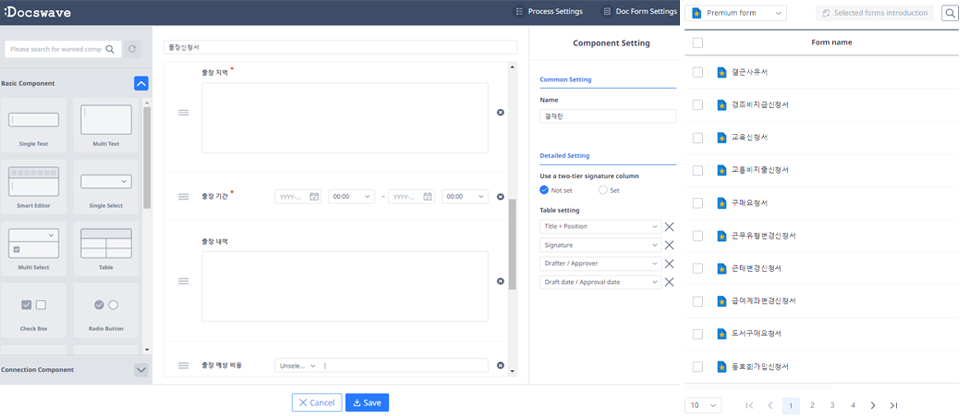 The Premium Form is provided by Docswave for various electronic payments.

Each item can be inserted and removed in a component drag and drop manner, making it easy and convenient for administrators to fill out the form.




We offer approximately 40 form templates, including premium forms that work with each manager's menu, such as vacation applications, spending resolutions, etc.

Administrators can directly create forms using components, or they can modify and use provided templates.
STEP 2

What are components?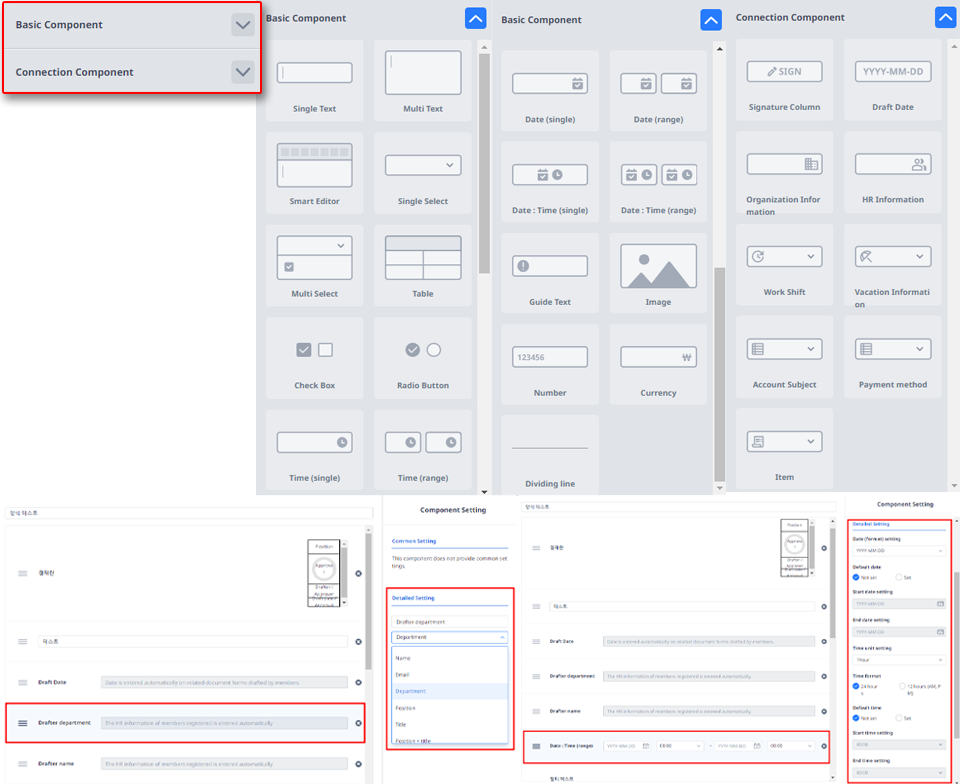 A component refers to items that the drafter can fill out or link information to on a form such as title, approval, department, etc.

Components are classified as basic components and interlocking components according to their personality

.

Basic component

:

A component that allows members of the organization to enter content.

single text, multi-text, smart editor (web editor), single select, multiple select, table, check box, radio button, time (single), time (range), date (single), date (range), date+time (single), date+time (range), notice, image, number, currency, dividing line

Connection components

:

A component that automatically retrieves information from the system based on the information of its members.

Approval column (position/title, signature, draft/approval, draft date/payment date), draft date, organization information (organization name, slogan, introduction, address), personnel information (name, email, department, position/title, office number, phone number, address), work type, vacation type, account subject, payment method, item

When you place a component within a form and click on it, you can set the component settings on the right.




Common Setting

:

You can set the name, required, and instructions.

Detailed Setting

:

Appears when detailed settings are required for each component

.

Example) Connection component > HR Information

:

You can select information such as name, department, position, phone number, and set a name accordingly.




Basic component

> table :

You can add as many columns as you want.

Provides 'Style' information that allows you to set font, sorting criteria based on components.

You can move the location of a component by clicking the three-line icon to the left of the component name.

Click the Save button at the bottom to save the completed form. Subsequently, members of the organization can draft documents using this form.
STEP 3

This is why you need to use premium forms.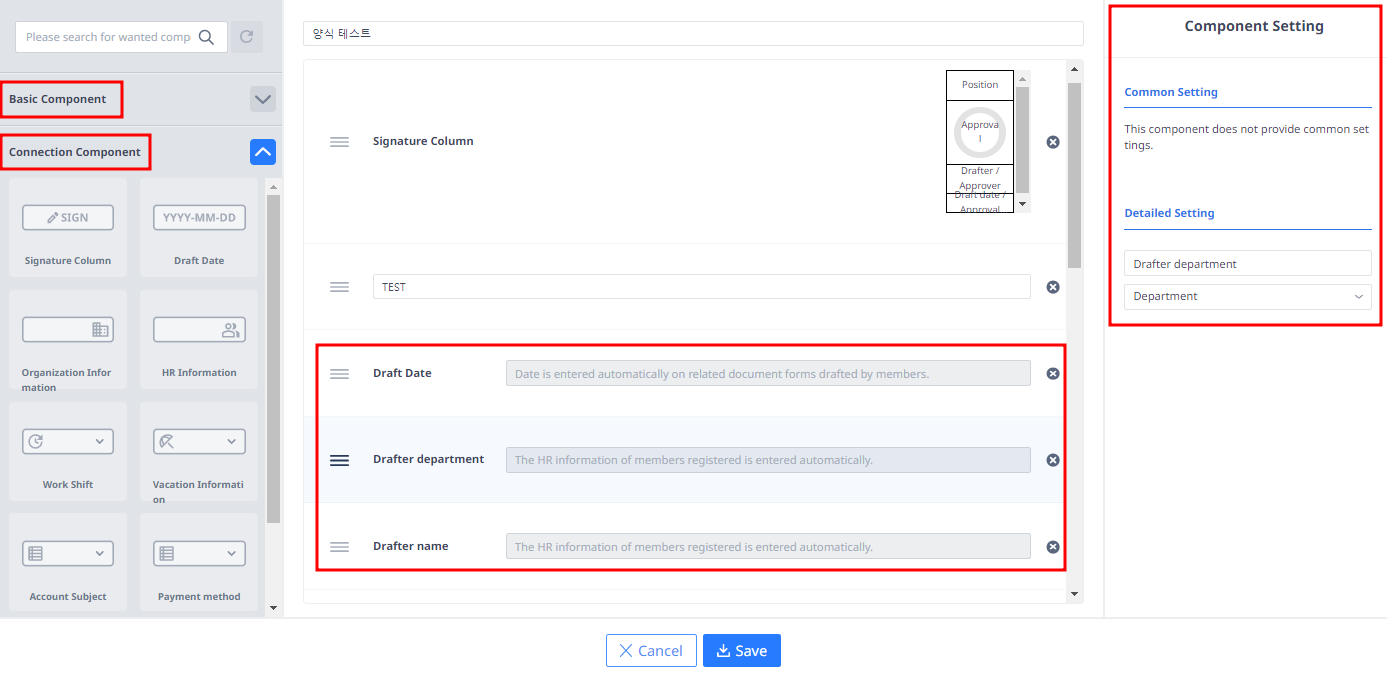 You can place the approval box at the top of the document.

Connection components such as draft date and personnel information can automatically retrieve information from the appropriate organization and members.

Intuitive UI allows administrators to quickly and conveniently create forms.

The data is automatically linked when finally approved in conjunction with the Admin menu.

In Workflow Data Management, you can see only the content at once.
STEP 4

Premium form that can only be copied and introduced!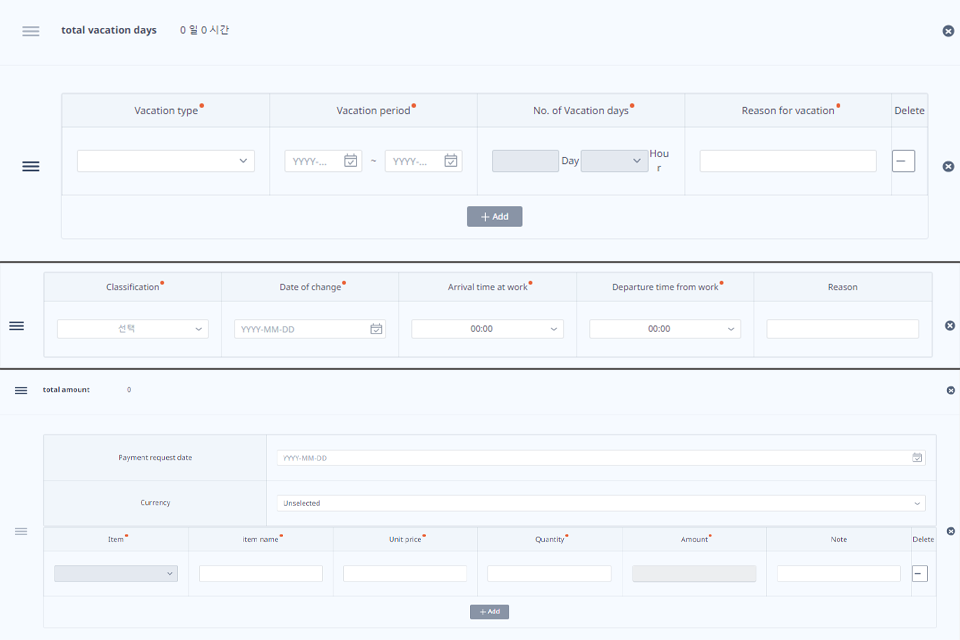 Premium forms linked to the manager's menu cannot be created through empty forms (free forms), and these forms are as follows.
Menu Name

Form Name

1
Leave History Management

휴가 신청서

vacation application

2
Expenditure History Management

지출 결의서

expenditure document

3
Purchase History Management

구매 요청서

purchase request document

4
Work Shift Management

근무 유형 변경 신청서

Application document for Change of Work Type

5
Attendance History Management

근태 내역 변경 신청서

Application document for correction of T&A
These forms can be verified and modified by copying or introducing forms.

Admin > Workflow Management > Common Doc Form Management >

Click the check box in front of the form name

>

Click the Change Status icon in the upper right corner > Copy Document Form

Admin > Workflow Management > Provision Doc Form Introduction >

Click the check box in front of the form name

> Selecte forms introduction

You can modify the contents of the form by adding basic components and connection components to that form