[HR management] Change Retiree


Admin > HR Management > Organizational Chart/Organizational Member Management

The status can be changed so that the quitters are not charged

STEP 1

Browse to the Manage Organizational Members page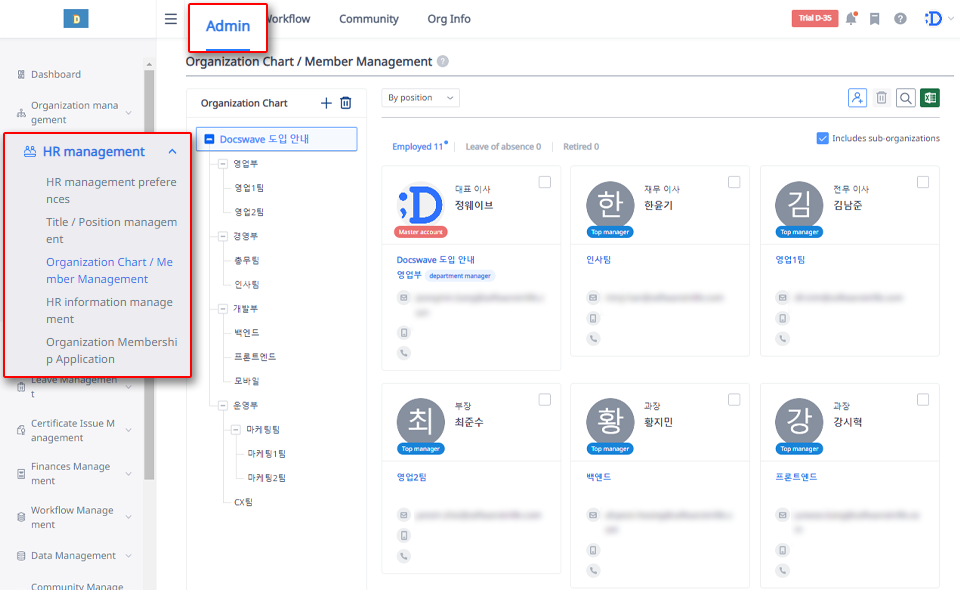 Access Docswave

>

Admin > HR Management > Organizational Chart/Organizational Member Management
STEP 2

To change the status of quitting members
Find member Status




Click member Name > HR Information > State

Check the member's check box > Click on the pencil icon at the top right > Change status

Select State as 'Retired'

Click the 'Save' button to save the status of the member. If you do not click the 'Save' button, the status will not be saved.

Members who have been changed to retired status are not allowed to enter the organization afterwards.
📌 For the management of information (work attendance, vacation, documents) and mail account management of retirees, we recommend changing it to retirement status rather than deleting it.
STEP 3

Understanding the Accounting Method of Retired Persons
Members in the 'retirement' state will not be included in the invoice after the next month (Docswave is a post-payment and next month's invoice will be included in the expiration date)

Docswave's billing is included in the next month's invoice, no matter when you change it during the month.

EX) Change status to retirement on May 10

Invoice issued on June 1st (Term of Use: May 1st to May 31st) Including retirees

Invoice issued on July 1st (Term of Use: June 1st to June 30th) Except for retirees