Personnel information management menu allows you to check and modify personnel information of the members of the organization.

[Checking and modifying personnel information ]

1. Select [Admin] - [HRM] - [Personnel Information Management]

2. Select departments and members in the left-hand organizational chart

3. Click the [Pen] shape on the right side of the member who wants to modify it on the left side of the diagram



4. Check retirement after selecting [eye] at the top right of the organization chart.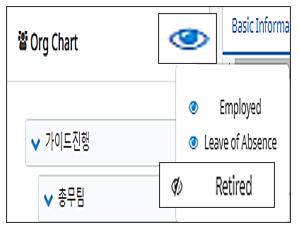 5. Save after completing the change