[Start of a member] To check for new notification


You can check notifications within Docswave organization.

You can check the PDF details that I downloaded.

STEP 1

Browse to the new notification

Docswave Connection > New notification icon in the upper right corner

If you have a new alert, a red circle point appears next to the alert appearance icon.
STEP 2

To check for new notification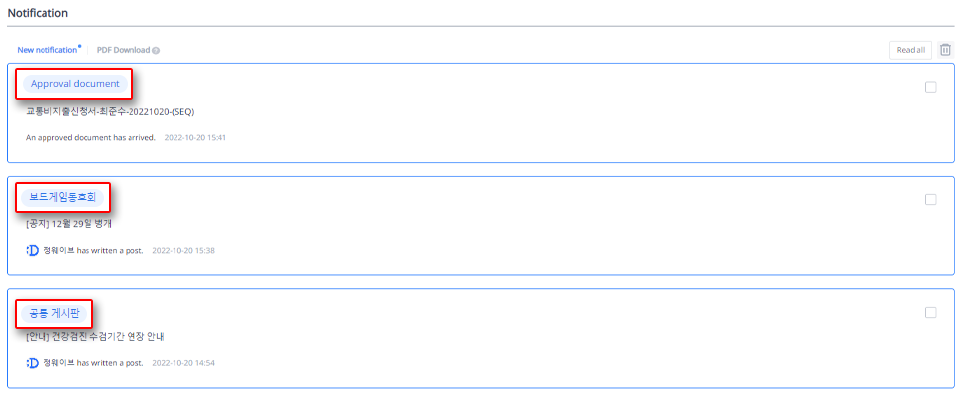 You can check the notifications related to me.




Workflow: Notifications such as document-related drafts, approvals, and comments are displayed.

Draft Docs

Approval document

Received Docs

Observed Docs

Bulletin board: Notifications such as writing posts and writing comments related to bulletin boards appear.

Name of each bulletin board

Clicking an alert takes you to a page where you can view the content.

However, if you don't have permission to read it, you cannot move.
STEP 3

To delete a new

notification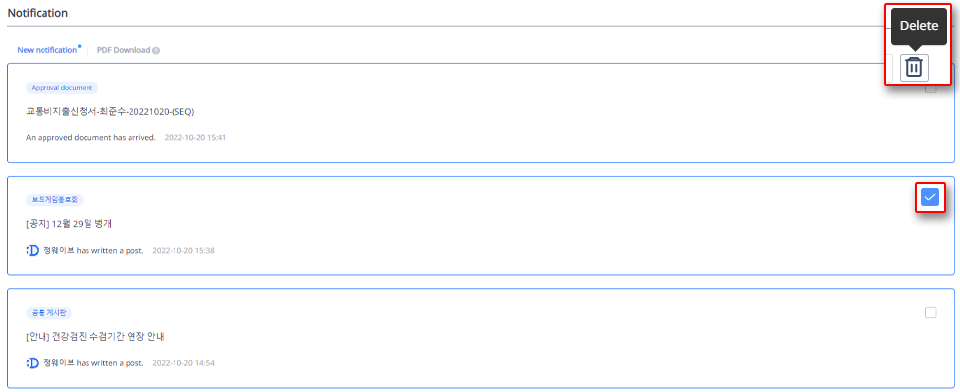 Check the check box to the right of the notification you want to delete to activate the delete icon at the top.

If you click the Delete icon after checking as many times as you want, the notification will be deleted and not restored.
STEP 4

To check PDF download history

Click on the 'PDF Download' tab in the upper left corner to see the document history I converted through the 'Export PDF' function.

Re-download is possible through the 'PDF Download' button on the right side of each history.

The history appears for two weeks as of the download date.

Check the check box on the right and click the Delete icon at the top to delete the history.