I want to change Master account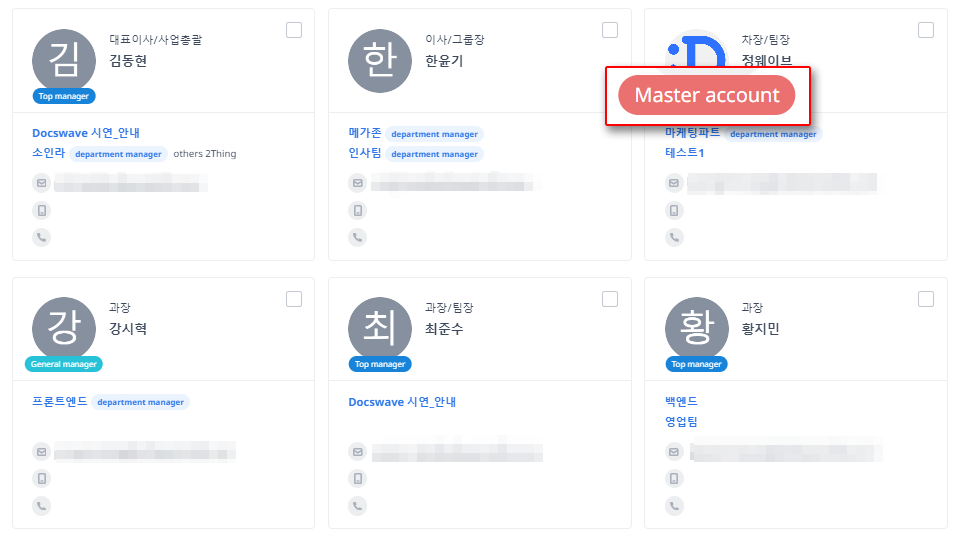 In Docswave, the account that created the organization becomes a 'Master account'.
And this master account cannot be changed or deleted.
⭐

There is only one master account within the organization.
Docswave has no limit to the number of top managers and general managers you can specify.
So anyone who needs to manage an organization can be designated as an administrator.
Top manager : Within the Docswave web, it has the same rights as the master account.
General manager : It can be set access permissions per Docswave Admin menu, but the Authority Management, Open API Management menu does not have access.
Why is there only one Master account?
Docswave's documents and attachments are all stored on the master account's Google drive.
In other words, the Master account is the only owner of all Docswave materials. One organization can only work with one Master account.
Employees within the organization can only share the file and edit or view it.
⭐ You

cannot change or delete

the master account.
When an organization is created, Docswave works with the Google drive of the account that created the organization (the Master account).
It's to store the documents that are generated and the files that are attached when using Docswave.
Therefore, an account that has already been linked cannot be changed to another account.
If you really need to change your Master account, the only way is to create a new organization.
However, the transfer of data between organizations cannot help. 
Docswave is unable to access the Google Drive on your account.
⭐

Create a Docswave organization with an in-house management account.
Google Drive in the master account is where all the materials used within the organization are stored.
Because it is full of sensitive information, it is not recommended to create an organization with a private account of an ordinary employee.
If an employee who is the owner of a Master account leaves the company, it can also have a negative impact on information security.
Therefore, we recommend creating a Docswave organization with a managed account that can be shared by administrators on-premises.
Regardless of who leaves, you can continue to use the Docswave organization.